Saas affiliate tracking platform /software versus an in-house developed solution – Pros and cons
Florin Simovici
Why should you consider building your Affiliate Network or Affiliate Program on a SaaS affiliate tracking platform instead of developing it yourself, in-house?
This is a very controversial subject and not very well covered in my opinion. Most of the people willing to take this street don't know what is awaiting on the path, I would like to share my opinion with you, as a former affiliate and Affiliate Network owner, which used a lot of trackers before starting to build it in-house.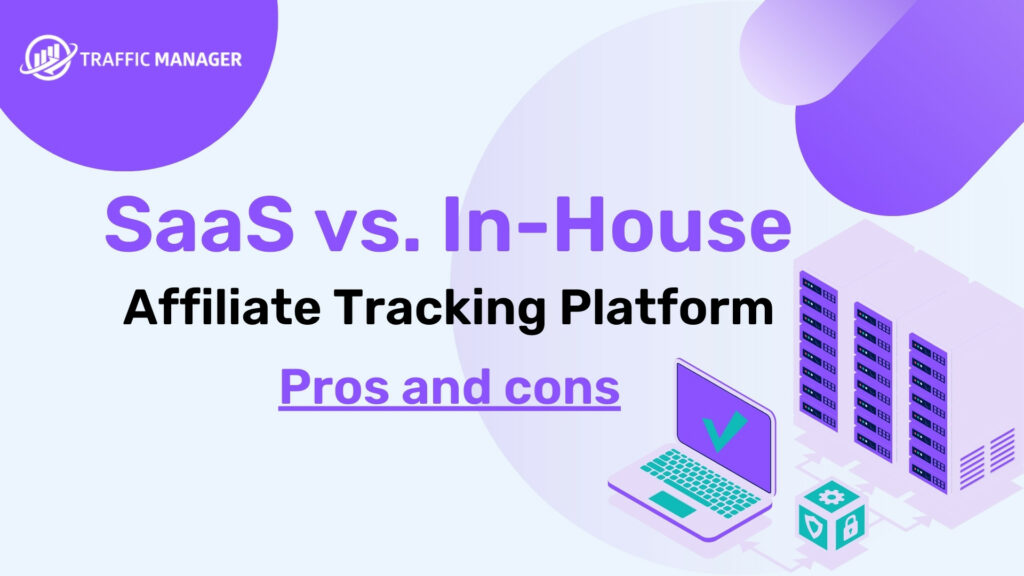 For those of you who didn't know, before TrafficManager, me and my associate Francesco run an affiliate network with 2 other associates (between 2014 and 2019). This is how we started building the TrafficManager platform in the first place. In the beginning, it was designed for our purpose, and, later on, we transformed it into a SaaS service after a few friends from the industry asked us if we would sell or rent them the technology to build their network on it (somewhere around 2016 we started to have the first requests).
Until there we have already made a lot of road with the team and passed through all sorts of challenges so here are my 2 cents on why you should consider, using a SaaS solution instead of building an in-house platform from scratch, to start your affiliate program or affiliate network.
Building an affiliate tracking and management platform is not an impossible task of course, on the other hand, neither a walk in the park.
Before jumping into this adventure, and by the way, I am not using the word adventure as a metaphor, you should be aware of what to expect on the other side of the wall, along with all the challenges you will face once you start this journey.
Here are some of the most important challenges you will face:
Challenge number 1: Choosing the right technology
This is not an easy task, and you should be very well prepared about this since the technology you will decide to start building on, will be your business foundation, therefore if you screw it in the first place, you will lose a lot of time, money, patience, and energy later.
This is also a big issue for some of the SaaS affiliate tracking platforms available on the market even nowadays, because they were developed 10-15 years ago, with the technology available at that time. This means it will very difficult for them to pivot at this moment and choose a better technology because this would imply rewriting the whole thing from scratch.
But let's take a step back because the first step in choosing the right technology is actually to find the right developer or developers (depending on if you are in a rush or not), to write the platform code, if you don't have one in your team already. If you have it, consider yourself lucky because this is one of the biggest issues you will encounter when you will start assembling the team.
Once you start on this "journey" of finding the developers for your team, you will notice that most of them, or most of the development teams you will ask an opinion to, will propose and insist to develop your tracking platform using the technology they're most comfortable with, especially if they are employed on a project basis or they are paid per hour.
"But how can we be sure it is the right technology? "
"How secure is it? How scalable and cost-effective? "
"How popular is it among the developers?"
"How easy will be for you to find or train if needed, other developers in the late stages that can continue the development using that same technology?"
These are just a few questions you should ask yourself and you should get as many opinions from the field as possible before going forward, no matter the industry for which you want to build your affiliate network.
Now this will automatically drive us to the next challenge, well related to the first one.
Challenge number 2: Finding the right people to build it with (in a web developer's suit)
There are many great developers over there, is just very hard to find some people with which you can fully resonate. Someone who can "translate" your needs into codes and features, understand the use case, and solve your problem. If you find someone like that, consider yourself very lucky because that is very rare among developers. Those of you who had to do with programmers before, know what I mean. Finding loyal employees or associates, productive and committed, that understand your ideas and can write them into codes is very tricky.
But let's assume you don't have this problem; you have a great team of programmers and a great CTO so let's pass to the next important challenge.
Challenge number 3: The cost and time needed for development.
If you start from zero, the average time needed to develop a working affiliate tracking and management platform with 2 developers that had previous experience in building similar projects, from planning to study and execution, can vary between 12 to 18 months (depending on the complexity).
If the developers are new to this, you will certainly need more time to develop, A/B test, optimize and fix bugs.
As for average costs, if we have experienced developers we could think at:
2 developers employee x 12 months x an avg of 4500euro per month = 108.000 euro + servers and other resources costs. Here you can do your math considering the avg developer salary + taxes in your area.
Once the platform is live you will also have monthly maintenance costs for at least 1 of the 2 developers (if not both), so keeping your brand-new tracking platform live, will cost you at least 5-6000 euros per month compared with a SaaS like TrafficManager for which you will pay an average of 600 euro per month which is 10 times less (depending on the usage).
Time loss and often money loss in beta testing and bug fixes when releasing a new feature.
For example:
When you need new functionality to improve productivity, or maybe you saw a new promo tool that your competitor is using with great success, therefore you want to reverse engineer it. If it is built by inexperienced developers, you release it without proper testing and it has some bugs in it, sometimes this could be translated as a loss of affiliate traffic, due to faulty redirects for example, including loss of money.
Resume monthly/early costs vs SaaS
| | | |
| --- | --- | --- |
| Development & Other Resources | In-House platform | SaaS Platform |
| | | |
| Development Team | Avg. 9000 euro/month | 0 costs |
| Server Costs | Avg. 500 euro/month | 0 costs |
| API Services for targeting | Avg. 250 euro/month | 0 costs |
| Other API Services & Resources | Avg 150 euro/month | 0 costs |
| Monthly Subscription | 0 costs | Avg. 600 euros/ month |
| Total Costs Per Month | Avg 9900 euros per month | Avg. 600 euros per month |
| Total Costs Year | Avg. 103800 euro / Year 1 + monthly maintenance costs starting year 2 | Avg. 7200 euro / Year |
For better cost prediction you should substitute the amounts from this table with the avg. developer's salary + taxes in your area, and the average costs for all the other services needed like servers, geo-targeting IP databases, anti-fraud API service costs, etc.
When we build in TrafficManager a new feature, every time is set as ready to deploy by the tech team, first is tested rigorously by the testing team, together with the developers, and thanks to their experience in the field, they know exactly what to look after.
After their approval, the feature is released in the beta test to some clients first, which usually are the same customers that requested that feature to be developed and agreed to test it. After a beta testing period which varies between 4 and 8 weeks, if no issues were found or no modifications/optimizations are requested by the clients, the feature is released to everyone.
The main advantage here is that in the least probable case, a bug is found, or the functionality is not the one expected, it will be discovered and fixed way faster and easier thanks to the high number of clients which will use it (sometimes in different business models and scenarios), versus being tested by one person from your team, in different environments to make sure it works as it should.
From my personal experience as an affiliate in the past, I can assure you that simple bugs in the affiliate tracking systems could create great money losses if they are not discovered in time.
Another important aspect of why you should rely on a SaaS instead of an in-house solution is regarding the features and functionalities development flow. In a SaaS tracking platform, the new features ideas come from hundreds of customers with the same need, who constantly follow the trends, so you will basically find most of the features even before you need them, already developed and tested by the other users (SaaS clients) while if you build it in-house, you are in substance alone on all aspects, from planning to testing.
Once you have an idea about a feature, even if you know exactly in your head what it should do, the developers still need to "translate" that need/feature into code, optimize it, test it and integrate it into the system and if their experience is not that great, or they lack the patience in testing and release without proper tests, they could unwillingly release also some bugs in the system, hard to identify or replicate, since some of these bugs could come out only in some specific situations, so difficult to fix.
From here to monetary losses is just one step and the worst part is that sometimes you can be unaware of these losses for long periods since are not affecting the whole platform operations.
For example, redirect chain errors for specific filtered traffic, like redirecting by mistake mobile 3/4/5G users to 404 or 500 error pages generating traffic and commission loss.
Pros of an in-house affiliate tracking platform:
• Complete control over the platform and the data being tracked
• Customized on the specific needs of the business
• Data security control, as the platform is hosted on the company's servers
Cons of an in-house affiliate tracking platform:
• Higher upfront cost to develop and maintain the platform
• The time needed to develop, the platform use can't start immediately
• Requires a dedicated team of in-house experts to manage and maintain the platform
• High probability of losing money in the testing period• Limited scalability, as the platform is only accessible within the company
Pros of a SaaS affiliate tracking platform:
• Lower upfront cost, as the platform is subscription-based
• Immediate access, so you could start your network right away
• Scalability, as the platform is used by multiple users with similar needs
• No need for in-house expertise to manage and maintain the platform or the servers
Cons of a SaaS affiliate tracking platform:
• Limited control over the platform, since is not on the company's servers
• Dependence on the reliability and security of the third-party provider
• Dependence on the third-party provider to customize the platform
Now, despite the obvious advantages in time saved, pricing, and on the organizational side of using a SaaS platform, why do so many companies still choose the in-house tracking platform road?
The problems could be many, depending on one's previous experiences with the different tracking tools existent on the market but in my experience, 2 main fears come out more often when companies' representatives should weigh on relying on a SaaS tracking platform or not.
The first one, and the most sensitive by its nature, is the fear to give up the data.
Some organizations simply don't trust a 3rd party company to fully manage their data. The idea that someone else besides you could see what you are doing, your numbers, the sales, who are the people you work with, etc., just freaks out some people and we have no cure for that.
Some other people are afraid that a security breach could expose their business online, others are afraid that some of the employees of the SaaS tracking solution could sell their data to a competitor and the list could go on, but what's the actual probability for any of these fears to become true?
The second reason is the lack of proper support and custom development.
Even if the clients of a SaaS tracker have most of the time common needs in terms of features and functionalities, some companies need customizations to scale and diversify themselves from their competitors and most of the tracking solutions on the market, don't offer them.
Besides this, any company needs to make sure that they can rely on the technical team whenever they need it, especially when there is an emergency, just as it would be an in-house technical team. They wanna have that security and go to sleep without the fear that something could go wrong in the middle of the night and the platform will go offline, and again, most of the affiliate trackers on the market don't offer that either, because is hard to commit the developers to work in the weekends or cover all the time zones.
If we take a step back and look again at the "Cons of a SaaS affiliate tracking platform" list above, we will agree that all the reasons listed there have to do with people's trust in a product or the organization around it and is something understandable. Everyone wants to have that sense of security that all is taken care of with the highest level of responsibility.
How many of you guys can close your eyes and say about your current SaaS tracking platform:
"I fully trust these guys with my entire business."
I am sure that not too many and of course if someone doesn't trust you, why should they put their entire business in your hands, right?
So, how come, TrafficManager is any different than the other trackers out there?
What did we do differently to eliminate all these incertitudes from our client's head?
How are we responding to all these challenges?
First of all, regarding the first problem, the data security and management, there is only one person in our company who can access the full data of our clients with no restrictions, and that's Francesco our CTO, which is also the data protection officer from our company as requested by the GDPR law in Europe. All the other members of the team have limited access to the client's business data, just enough to be able to provide support.
We had zero data leaks since we started in 2016 and we intend to keep it that way.
As a second option, we offer a solution also to the big data companies that would like to have everything in-house anyway. We install the platform on their servers, and we train their internal team for a period so that they can manage all the maintenance and continue to develop it based on their needs. This help can start with an already functional highly productive platform and is saving them a lot of time and money.
Regarding the second problem, the lack of proper support and custom development, since the beginning, we have offered all our clients custom developments when they need it with no issue, plus, in order to increase the customer support quality and active windows, we have opened offices in 6 different countries and 4 time zones, and counting.
As you can see, we, the founders, are doing our best to be present as much as possible in the company, to help as much as possible in all the company tasks and optimize as much as possible the entire operational part, from client acquisition, to support and the technical department organization.
Sometimes we even provide free consultancy about the management of an affiliate program to our clients, based on our previous experience. We love what we do, we like it when the clients feel safe working with us and treat us like a close friend (a confidant) to which they can reveal all the challenges they encounter and which can help solve and scale.
As a final conclusion, the biggest fear when using a third-party affiliate tracking platform is the potential loss of control and security over your business-sensitive data and operations, and I can truly understand this because, I was once in that position too, before starting to build TrafficManager for our own affiliate network in 2014.
That's why we are doing our best to become part of the client's team and not just the 3rd party tracking software they use.
We love watching our clients' businesses thrive while we are on the watch, also thanks to our product and support. It is an amazing feeling of building together some real value.
With respect,
Florin Simovici – CEO of TrafficManager
Thank you for your trust and support and remember to keep an eye on our blog and social media pages for the next updates.