New Payout Mode: Dynamic Revenue share
[email protected]
After some of our client's requests, especially from the Casino and iGaming affiliate network industry, a new payout mode for your offers/campaigns is available starting today in the TrafficManager affiliate tracking platform: Dynamic Revenue share.

As promised, the main focus of our service is to provide all our partners not only a reliable tracking and affiliate management solution but also marketing tools that can help them incentivize affiliate traffic acquisition, which is one of the most important factors in an affiliate network success, no matter the industry.
The Dynamic RevenueShare payout mode is here to enforce our existing payout mode features and give you, as an affiliate network owner, the possibility to reward your affiliates with a dynamic percentage based on the affiliates Net Revenue or Payout calculated on a monthly or weekly period, at your choice.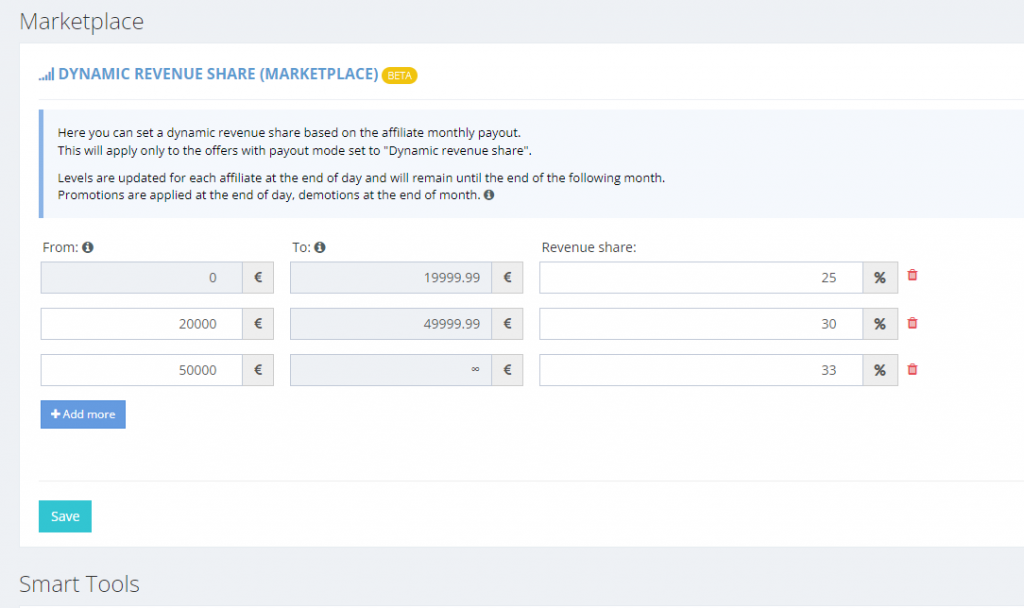 Basically, if you need to pay affiliate groups with a custom revenue share based on the net revenue, they bring on the platform or based on their affiliate payout, from now on, you can do it easily, by using the TrafficManager affiliate tracking platform.
This feature can also be combined with the custom payout per each affiliate feature, which will give you the possibility to set a custom revenue share for each individual affiliate if you want.
By default, the Dynamic Revenue Share feature is set to calculate the payout and rewards of the affiliate commissions on a monthly basis but, you can change that to weekly if you need to.
Please note that this feature is available only for the Professional or above TrafficManager clients using the normal tracking platform version. Click here to check pricing and features.
For the clients using the iGaming version of TrafficManager, this feature is included in both packages.
If you need a custom intervention to personalize this feature even more and calculate instead of the net revenue or payout the number of subscriptions an affiliate is bringing or traffic Tier, please open a support ticket with us and we will make it happen.