New Feature Released: Tasks and Reminders
[email protected]
Building and effectively managing an affiliate network is much more than having affiliates, amazing offers, great tracking, promo tools, and statistics; it's also about following up and building your business in a very organized way that will allow you to scale easily.
With this idea in mind and some feedback from our clients, we have created this great feature that will allow you to centralize and organize all the tasks you and your team members must perform to scale your business, directly inside your TrafficManager tracking platform – the Tasks and Reminders feature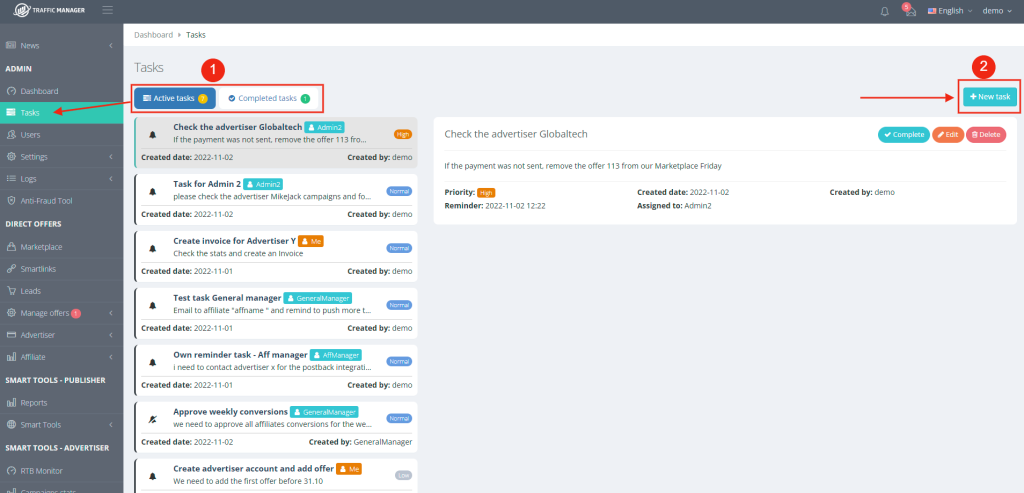 The Tasks and Reminders feature allows you, as an Admin, to create tasks for yourself, or to assign them to specific members of your team, set Telegram/email reminders for each task on a specific day and hour, set a priority level and mark them as complete once the job is done.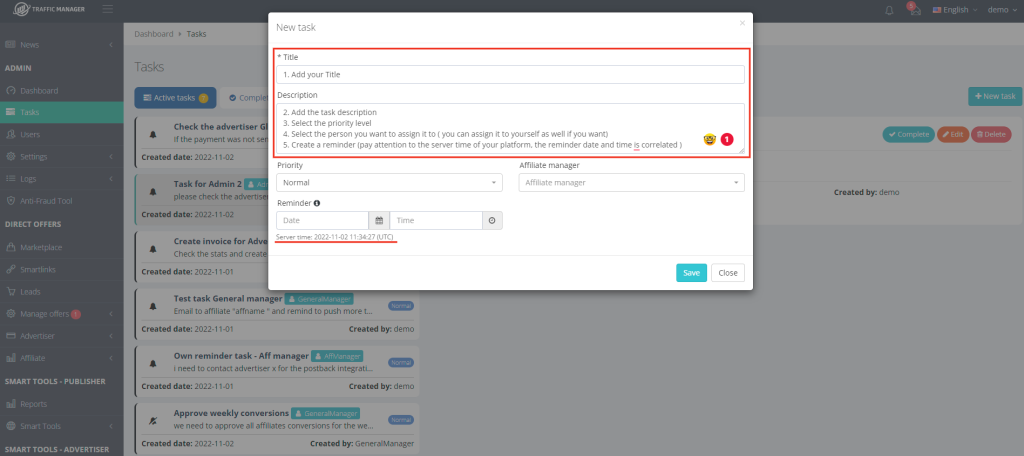 More than this, your Affiliate Managers can also create their own personalized tasks and reminders, besides the ones you will assign them from the admin dashboard, and they will be notified by email or Telegram message every time they have a new task assigned by one of the admins.
This feature is available for all the TrafficManager tracking platform pricing plans and platform versions, including our Igaming and Casino affiliate software version
We strongly believe that as a SaaS tracking platform, our mission is to develop for our partners the best features and solutions which will help them scale their business easily, and the best support possible. This is another step the TrafficManager team makes towards the goal of having a unique product, the best of its kind, which will help not only the affiliate marketing professionals but also the small operations, which just started their journey in this world and need a great and cost-effective platform to build their business on.
Stay tuned for the next feature releases and remember to follow us on social media!
All the best,
The TrafficManager Team.