Revolutionizing Affiliate Tracking with TrafficManager's Custom Affiliate ShortLinks
[email protected]
In the rapidly evolving world of affiliate marketing, staying ahead of the curve means continuously adapting, innovating, and improving. At TrafficManager, we're passionate about driving these changes and committed to providing our users with the tools they need to succeed. That's why we're thrilled to announce the launch of our latest feature: Custom Affiliate ShortLinks.
Custom Affiliate ShortLinks is a groundbreaking new feature designed to simplify and streamline your affiliate tracking processes. This innovative tool allows affiliates to create unique, user-friendly URLs for promoting your affiliate program's products or services, moving away from complex tracking parameters towards easy-to-use simplified URLs.
From Live Streams to Silver Screens
This innovative tool allows affiliates to create user-friendly tracking URLs for promoting your affiliate program's products or services, moving from complex tracking parameters to simple and easy-to-remember URLs enabling seamless and easier tracking. From now on, tracking your sales will be possible even across the most difficult mediums like influencers-generated content, live streams, TV or radio shows, commercials, videos, music, movies, and so on.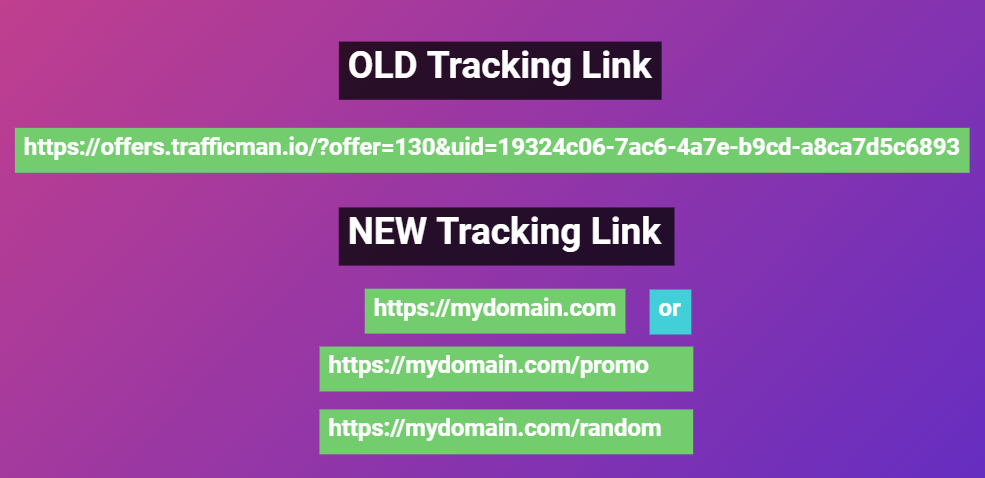 Unlimited Combinations Under One Domain
One of the standout aspects of Custom Affiliate ShortLinks is its ability to generate unlimited combinations of shortlinks under the same domain. This is a major enhancement to our tracking system capabilities, and it provides a more comprehensive and accurate tracking solution for our clients.
API Access for Enhanced Flexibility
We understand that each affiliate program may have unique integration needs. Therefore, our Custom Affiliate ShortLinks feature comes with API access, ensuring you can easily integrate this feature into your existing processes and systems.
Embrace the Future of Affiliate Tracking
Experience a new era in affiliate tracking with Custom Affiliate ShortLinks. Start using this amazing tool today to enhance your promo strategies and maximize success. Available for all TrafficManager clients with an Agency or above subscription, it's your gateway to innovation and success. Join us on this journey and unlock your full potential.
As always, our dedicated customer service team is here to assist you. For more details about this feature or any other aspect of our tracking platform, please contact our support team.
New to TrafficManager?
Feel free to schedule a call with us to learn more about this and other incredible features offered by TrafficManager by CLICKING HERE
Stay tuned to our blog for more updates and insights into the ever-evolving world of affiliate marketing. Together, we will shape the future of affiliate tracking!
Thank you for your trust and support and remember to keep an eye on our blog and social media pages for the next updates.
All the best,
The TrafficManager Team.